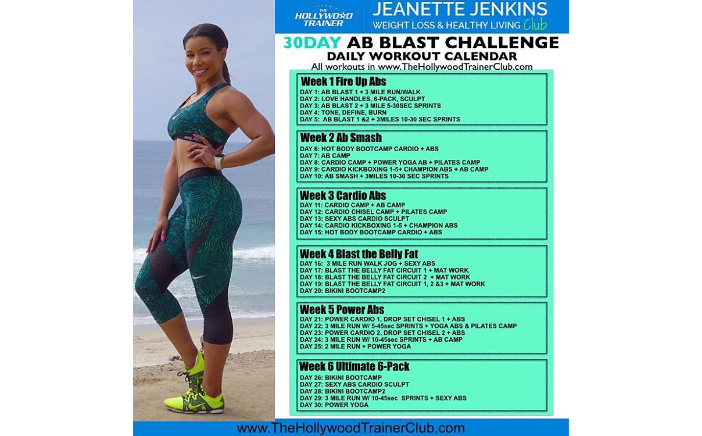 We are in Week 6 of our 30DAY AB CHALLENGE in The Hollywood Trainer Club! It's time to take everything we have learned and increase the FUN FACTOR! Post a message on the Community wall and let us know that you're joining us! Click on "Exercise"and then "Virtual Gym" and then "30Day Ab Blast" in the drop down menu! Let's Go! 

It's never too late to join us! All 30 Days are loaded in the Virtual Gym. We are doing this challenge to encourage you to continue exercising and eating healthy through the Holiday months, a time when people typically gain 10lbs. It's important to enjoy the time you spend with your family and friends during the holidays but you must also take care of yourself. Exercising will help you lower your stress levels and you will be less likely to gain those extra Holiday pounds. Grab a friend and join us! You can do it! These workouts range from 10mins to 75mins and they are guaranteed to deliver results! There are 5 workouts per week so you can do all 5 in a row or plan them in your week to fit your schedule! All of the workouts, healthy recipe guidelines and AB BLAST fat burning tips will be posted in the Motivation and News sections in The Hollywood Trainer Club.
Screenshot of Virtual Gym in The Hollywood Trainer Club: Week 6 Ultimate 6-Pack
7 Healthy Holiday Tips

The holidays are here and it's time to see the people you love and care about as well as celebrate all that you've accomplished this year. Staying active through the holidays will
increase your energy levels
strengthen your immune system putting you at less risk of getting sick
give you a boost of endorphins so you feel less stressed and full of joy 
and much more. Here are 7 Tips to keep you on track this holiday season.
1. Make the choice to see the positive in every situation this holiday. Don't stress over the small stuff. If you look for the bad you will have a bad experience. If you look for the good you will have a good experience. The choice is yours!
2. Hydrate! Drink plenty of water before your meal. We tend to eat larger portion sizes when dehydrated.
3. If you're going out for drinks, order water or iced tea for the first round. By the time you finish, your friends may have already finished two or three cocktails, while you've saved yourself 500 to 600 calories. And sometimes you'll be so into the entertainment of everyone else, you might not even want a drink by then!
4. Make it a family affair. Get active with your family members by doing a fun workout together like Cardio Kickboxing or a fun activity like ice skating or even just a walk around the neighborhood. 
5. Eat your veggies first. Don't dive right into carbs! Start with a green salad followed by protein, and then go for another vegetable. Save a treat-size portion of carbohydrates for last. When you have stuffing or mac 'n' cheese, have a half cup or full cup — no more.
6. Offer healthy spins on holiday favorites. When it comes to sweet potatoes, people always want to add marshmallows and brown sugar. Enjoy some fresh sweet potatoes, and don't add anything. Instead of a broccoli cheese casserole, opt for broccoli with shaved almonds flavored with chicken broth.
7. If it's too cold outside, find an online exercise program to do at home. There's so much fitness instruction available on social media and the Internet. Use it to your advantage. I created an online club, The Hollywood Trainer Club, where I have 330 workouts and challenges! I even do the workouts myself in a small space — either an office or a hotel room if I'm traveling. Not only do at-home workouts let you avoid the cold, but you save time by not having to commute to the gym. Best of all, there's no worrying about your outfit when you're working up a sweat in the living room!


Mom makes the best chili, and hers is even better the next day. If you like, divide it into individual containers and freeze for easy meals later in the month. Many companies make organic ketchup, so you can have the great taste without the high-fructose corn syrup, food coloring, additives, and preservatives. The same goes for Worcestershire sauce (Annie's Naturals is one of my favorites). Remember to read the ingredients and buy the product with the fewest additives. 4 servings
Ingredients
3 tbsp olive oil
1 clove garlic, finely chopped
8 oz lean ground turkey (7% fat)
1 tbsp chopped fresh basil
1 tbsp dried oregano
1 red bell pepper, diced
1 yellow bell pepper diced
1 large onion, diced
1 cup chopped celery
1 cup chopped carrots
1 cup chopped zucchini
1 (19-ounce) can bean medley containing navy beans, lima beans, kidney beans, and chickpeas.
1 (12-ounce) can corn kernels, or 12 ounces frozen corn
1 (28-ounce) can diced tomatoes (no added salt or sugar)
1 tbsp chili powder
4 tbsp Worcestershire sauce
1/4 cup ketchup
1/4 tbsp cumin
Instructions
In a large skillet, heat the oil over medium heat. 
Sauté the garlic for 2 to 3 minutes, or until it begins to brown. 
Add the ground turkey, basil, and oregano and continue to cook about 10 minutes, until the turkey is golden brown.
In a large saucepan, combine the turkey mixture with the red and yellow peppers, onion, celery, carrots, zucchini, beans, corn, tomatoes, Worcestershire sauce, ketchup, chili powder, and cumin. 
Bring to a boil over medium heat. 
Reduce heat to low and simmer, covered, for 30 to 45 minutes, or until the vegetables are tender. 
Stir the chili occasionally as it cooks so it does not stick to the saucepan.
Nutritional Information
AMOUNT PER SERVING  
Calories
464
Protein
30g
Carbohydrates
70g
Fat
8g
This recipe plus 150 more are in the Recipe section of the club www.TheHollywoodTrainerClub.com.