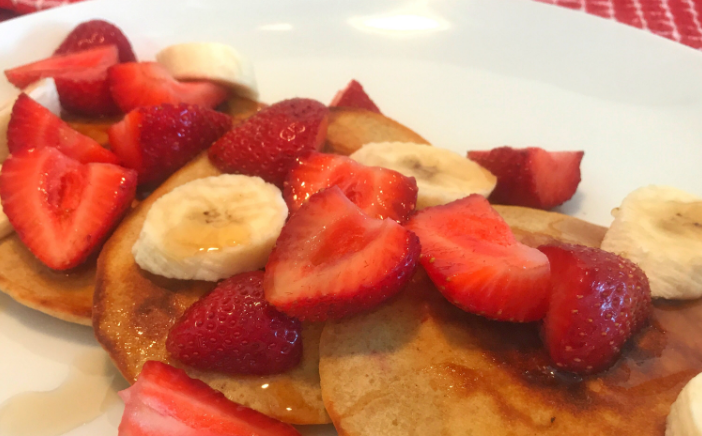 Eggology Strawberry Banana Protein Pancakes


 These delicious Eggology Strawberry Banana Protein Pancakes are great for a post-workiout breakfast or a healthy weekend treat. You can enjoy a pancake without the refined sugars or refined flour. A healthy protein twist to pancakes only 238 calories per serving, packed with 20grams of protein.
~makes 2 servings, 3 pancakes per serving
Use coupon code JJEGGOLOGY for $20 off your order of $99 or more at Eggology.com


This recipe is also in The Hollywood Trainer Club with over 140 more healthy delicious recipes and weekly meal plans. Log into the club www.TheHollywoodTrainerClub.com click Meals, then Recipes A-Z , then type in Eggology Strawberry Banana Protein Pancakes.

Ingredients
1/2 cup of Organic Eggology Liquid Egg Whites
1/2 cup organic rolled oats
1 scoop vanilla protein powder
1 whole banana
1 cup strawberries
2 tsp cinnamon
coconut oil cooking spray
1 tsp baking powder
4 tbsp water
Instructions
In a blender blend the rolled oats by themselves for 30seconds until they turn into a powder then add Organic Eggology Liquid Egg Whites, vanilla protein powder, cinnamon, water, baking powder and banana 
Blend on high speed for 1 to 2 minutes, or until smooth.
Spray coconut oil onto a pan and bring to medium heat.
Pour 2 tablespoons of the pancake mixture into the pan for each pancake
Cook until bubbles form on the surface, turn gently, and brown the other side
To serve, top the pancakes with the strawberries and sliced bananas (Optional add 1tablespoon of maple syrup, additional 52 calories)
Nutritional Information
Amount Per Serving  
Calories
238
Protein
20g
Carbohydrates
36.3g
Fat
3.15g
Fiber
6.6g
10Day Ab Blast Powered By Eggology Round 2! 

It's time for Round 2 or our 10Day Ab Blast Challenge Powered by Eggology!  Join us! The challenge starts right after Memorial Day Weekend, so mark your calendars. The purpose of this challenge is to encourage you to commit to 10 days in a row of total body workouts with an extra emphasis on the abs! We have incorporated  Cardio, Sculpting, Exercise Ball, Pilates, Running, Sprint Intervals, Kickboxing, Yoga, Strength Training and Sports Drills to challenge your core for maximum results. By using various methods of training that use your abdominal muscles in all the planes of motion the body will be consistently challenged over the next 10 days to help you achieve incredible results. All of our workouts offer instruction for beginners to advance so everyone is welcome. Let's get started! 
Screenshot of the "10 Day Ab Blast Challenge Powered by Eggology" in The Hollywood Trainer Club Virtual Gym.


To help you burn the fat over your abdominal muscles you must eat healthy.Eggology is one of my favorite sources of protein because it is cholesterol free, low sugar, contains all the essential amino acids, organic or cage free and easy to prepare from shakes to delicious omelets. Below is a one week meal calendar  with some of our favorite healthy meals including some Eggology recipes. 
Eggology Veggie Egg White Omelet
Eggology Egg White Quesadilla
Eggology Egg White French Toast
Eggology California Sunshine Smoothie
Eggology Egg White Muffins
Eggology Egg White Muffin Sandwich
Screenshot of the Veggie Egg White Omelet with Eggology recipe in theRecipes A-Z section of The Hollywood Trainer Club.


The best way to achieve your goals is to make a plan and we've already done all the planning for you! Post a message on the Community Wall in The Hollywood Trainer Club and let us know that you're joining us! Click on "Exercise" and then "Virtual Gym" and then "10 Day Ab Blast Challenge Powered by Eggology" in the drop down menu and Press Play on Day1! Let's Go!