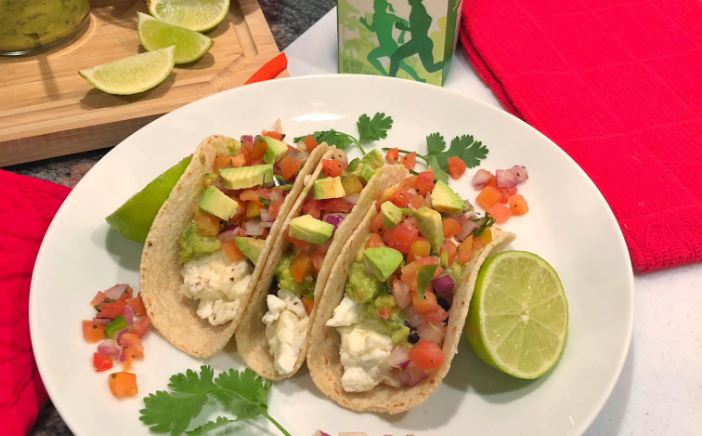 New Recipe Alert! Try these delicious and nutritious Eggology Egg White Tacos. Breakfast tacos are a great option for those mornings when you want to start your day with a little spice. They are also perfect when you need something "on the go". This recipe is in The Hollywood Trainer Club with over 150 more healthy delicious recipes and weekly meal plans. Log into the club www.TheHollywoodTrainerClub.com click Meals, then Recipes A-Z, then type in Eggology Egg White Tacos.

Ingredients
2 small organic white corn tortillas
1/2 small organic avocado
2 tbsp organic black beans
2 tbsp organic pico de gallo
Use coupon code JJEGGOLOGY for $20 off your order of $99 or more at Eggology.com


For more of Jeanette's heathy Eggology recipes go to Eggology.com/Recipes. 

Instructions
Coat the pan with Coconut Oil or Olive Oil Non-Stick Cooking Spray 
Scramble the Eggology Organic Liquid Egg Whites with a dash of Himalayan salt and pepper in a pan over medium heat for 3-5mins until solid white
In a large skillet lightly sprayed with Coconut Oil or Olive Oil Non-Stick Cooking Spray, warm each tortilla on both sides. 
Place the tortillas on a flat surface & fill with the ingredients to make your tacos: egg white mixture, fresh pico de gallo, diced avocado, black beans 
Plate with a side salad and enjoy! 
Optional: season with your favorite hot sauce.

Nutritional Information
Serving Size is 2 tacos. One taco is just 181 calories.
Amount Per Serving
Calories
362
Protein
22g
Carbs
50g
Fiber
10g
Fat
10g