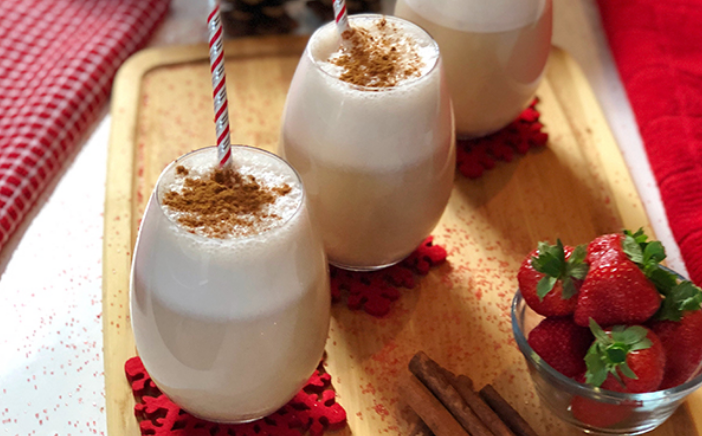 Spice up your holidays without the additional calories and make a batch of this delicious Coconut Almond Dairy-Free Eggology Eggnog. You will be the hit of your holiday dinner parties. It's so delicious and so easy to make. It only takes two minutes! ~ 2 Servings
Use coupon code JJEGGOLOGY for $20 off your order of $99 or more at Eggology.com


For more of Jeanette's heathy Eggology recipes go to Eggology.com/Recipes. 
This recipe is in The Hollywood Trainer Club with over 150 more healthy delicious recipes and weekly meal plans. Log into the club www.TheHollywoodTrainerClub.com click Meals, then Recipes A-Z, then type in Coconut Almond Dairy-Free Eggology Eggnog.

Ingredients
2 tbsp raw organic honey
1 cup Unsweetened Organic Almond Milk
1 cup Unsweetened Organic Coconut Milk
1 tsp cinnamon
1 tsp nutmeg
1/2 tsp cloves
1 tsp Vanilla Extract
Instructions
Put all the ingredients in a blender and blend for 1minute. Pour in cups, sprinkle with cinnamon and enjoy! It's that easy!

Nutritional Information
Amount Per Serving
Calories
132
Protein
6.5g
Carbs
19.5g
Fiber
4g
Fat
1g