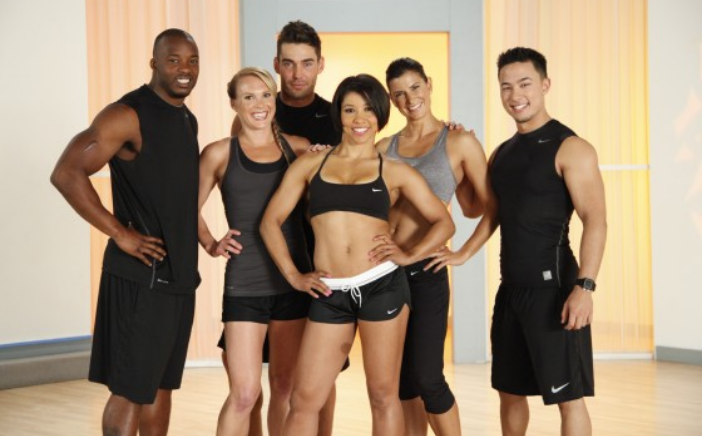 We are so excited to launch our new HOT BODY BOOTCAMP SERIES. Our first workout in this series is Hot Body Bootcamp Cardio!  It's time to uncover that Hot Body with Jeanette and her New heart pumping, calorie blasting Hot Body Bootcamp Cardio. Jeanette will blast the fat off of your body with her results-proven, adrenaline pumping bootcamp circuits that are fun, heart-pounding and guaranteed to burn 600-1000 calories. Yes this workout is for Men & Women and we have both male & female trainers in this workout to motivate you! Say hello Hot Body! It's time for chiseled abs, toned arms,defined legs and a round plump booty! This 60-minute Hot Body Bootcamp can be done all at once or broken down into four shorter bootcamps:
Power Cardio 1                       10mins
Power Arms Legs & Booty    11mins
Power Cardio 2                      14mins
Power Cardio 3                      11mins
for anyone that is short on time but needs a quick calorie blast! This Cardio workout is part of The Hot Body Bootcamp Series New & Exclusive to The Hollywood Trainer Club www.TheHollywoodTrainerClub.com Just login to the club it's only $19.99 a month with zero commitment! Click "Exercise" then "Virtual Gym" & Press Play on Hot Body Bootcamp! For maximum results follow your customized Healthy Meal Plan that is served to you weekly & daily! All you have to do is Login to the Club! All of the workouts in "The Hollywood Trainer Club" can be played on your phone, ipad, tablet, laptop or computer! Nothing to it but to do it! Let's go!



Holiday Season is here and these Honey Mustard Lamb Chops are a great dish to enjoy over the holidays! This is a simple recipe and a nice change from the regular chicken or fish meal.Get 100+ more  RECIPES like this in The Recipes A-Z section of the Club! Just click Meals then Recipes A-Z!  www.TheHollywoodTrainerClub.com. Prepare this the next time you have guests over and impress them with your unexpected culinary skills. They'll be even more surprised when they find out it's healthy!

Ingredients: 2 tbsp honey, 2 tbsp freshly squeezed lemon juice, 2 tbsp freshly squeezed orange juice, 2 tbsp minced fresh rosemary, 1/2 tsp Dijon mustard, 1 tsp minced garlic, 1 tsp onion powder, 1/2 tsp dry mustard, 6 (5-ounce) lamb chops, 6 fresh mint sprigs.
Directions: Preheat the broiler or girl to 350. In a small bowl, mix the honey, lemon juice, orange juice, rosemary, mustard, garlic, onion powder, and dry mustard to create a basting sauce. Brush each side of the lamb chops with the sauce & place on the the broiler pan or grill. Broil one side 5 to 6 inches from heat source for 6 to 7 min or until brown. Turn chops and brush with remaining sauce and broil for 6 to 7 more minutes or until brown. Garnish with mint & serve.


1. Keep a food log. Write down what you eat every day to stay accountable. Count calories. Over the holidays, we make it too easy to say, 'It doesn't matter! We're just having a good time!' That good time can last for two months! Some people gain 10 to 15 lbs. during this season. If you keep a food log, at least you're conscious of what you're eating.
2. Eat your meal in a certain order.
Don't dive right into carbs! Start with a green salad followed by protein, and then go for another vegetable. Save a treat-size portion of carbohydrates for last. When you have stuffing or mac 'n' cheese, have a half cup or full cup — no more.
3. Keep exercise a priority by changing how you view it.
It's not just about looking good. We're working out because we want to decrease our risk of illness and feel great. Look at it as an internal cleansing. Just like you take a shower and brush your teeth to clean the outside, you need to do something health-wise to clean the internal organs and get the blood flowing.