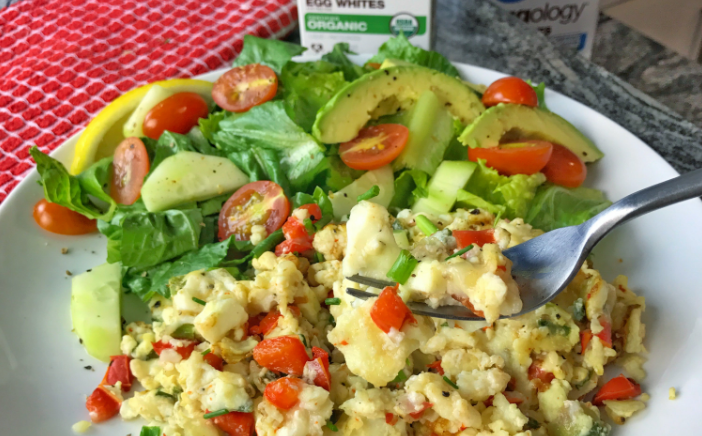 Eggology Egg White Scramble with Jalapeño Cheese & Onions! Enjoy Breakfast, Lunch or Dinner! It's the perfect go to 10min meal that is healthy, delicious and easy to prepare!

Ingredients
1 cup Organic Eggology Egg Whites
1/2 cup of chopped Red Onions
1/2 cup of chopped Scallions
1/2 cup of chopped Sweet Red Peppers
1/2 slice of Organic Pepper Jack (Jalapeño) Cheese diced into small pieces
2-3 teaspoons of pepper
Instructions
In a large saucepan on medium heat saute the onions with water for 2-3min until onions are soft.
Add the red peppers and scallions and 2-3teaspoons of pepper and continue to cook for 2-3minutes, adding water when necessary to keep the vegetables soft so they do not burn in the pan.
Drain excess water then add Eggology Liquid Egg Whites and cook until solid white then mix into a scramble.
Continue to cook until most of the moisture is gone or to desired consistency (medium or hard).
Sprinkle the cheese on top and mix through the eggs for 30sec -1min.
Remove from heat and serve with a side salad.
Nutritional Information
Amount Per Serving
Calories
242
Protein
30.3g
Carbohydrates
18.5g
Fat
4.2g
Week 4: 6 Weeks of Running with Jeanette Jenkins

It's Week 4 of our 6 Weeks of Running with Jeanette Jenkins challenge. Congratulations to everyone that has made it this far! If you haven't gotten a chance to join us, don't worry, it's never too late to join. This program is perfect for beginners, intermediate and advanced. We are challenging you to run/walk two times a week and cross-train three times a week. All the workouts for the three cross-training days are in The Hollywood Trainer Club and they include Power Yoga, Body Sculpting, Weight Training, Bootcamp, Pilates,Core, Focused Ab Work, Kickboxing, and so much more . The workouts are convenient you can do them on your phone, on your computer or your tablet anytime anywhere. The run/walk you can do outdoors or on a treadmill.
Log into The Hollywood Trainer Club, click Exercise, then Virtual Gym and select the 6 Weeks of Running tab to get the full program.
Screenshot of the 6 Weeks of Running in the Virtual Gym


If your goals is weight-loss then this is definitely a program that will help you burn hundreds of calories and sculpt & tone your entire body. Of course you must follow the meal plans in The Club because you have  to have a calorie negative at the end of the day for weight-loss and to burn fat . The combination of this program plus the meal plans in The Hollywood Trainer Club will definitely help you burn additional body fat. Post a message on the Community Wall in the club and let us know that you're joining us! You can also ask Jeanette any of  your fitness and nutrition questions on the Community Wall. She answers them every week.  Print out or take a screen shot of the "6 Week Running Schedule"  below  and post in a place that you will be able to see everyday. Let's go! You can do this!