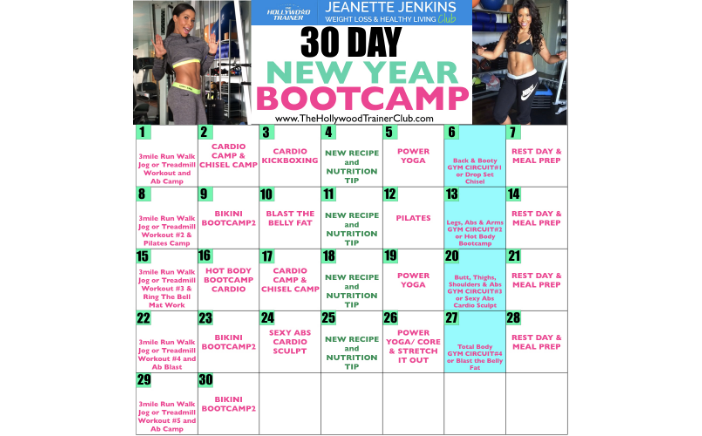 Join us for our 30DayNewYearBOOTCAMPChallenge! Mark your calendar, the challenge starts on Monday January 9th! Get 50% OFF the Bootcamp Bundle DVD's at www.TheHollywoodTrainer.com or join The Hollywood Trainer Club for $19.99 a month for over 330 workouts and challenges, 150+ healthy recipes and meal plans, motivation and community support. The Workout Calendar, Meal Calendar and "Success Tips" will be posted in The Hollywood Trainer Club on Tuesday January 3rd to give you time to plan your schedules! 
Facebook Live: 10 Success Tips Tuesday Jan 3rd
Join Jeanette for a Facebook Live on Tuesday January 3rd at 5pm PST/8pm EST with "10 Success Tips" to Help You Achieve Your New Years Resolutions and New Year Goals! Click here to go to Jeanette's Facebook page.  Write a message on the community wall so that we know that you are joining us. 

Keep your immune system strong through the holidays with one of our healthy green smoothies! Try this delicious "Pear, Spinach, Celery, Kiwi, Lemon, Ginger Smoothie" packed with Vitamin C. For more delicious recipes and over 150+ Healthy recipes login or join or club www.TheHollywoodTrainerClub.com and click on "Meals" then "Recipes A-Z" and enjoy