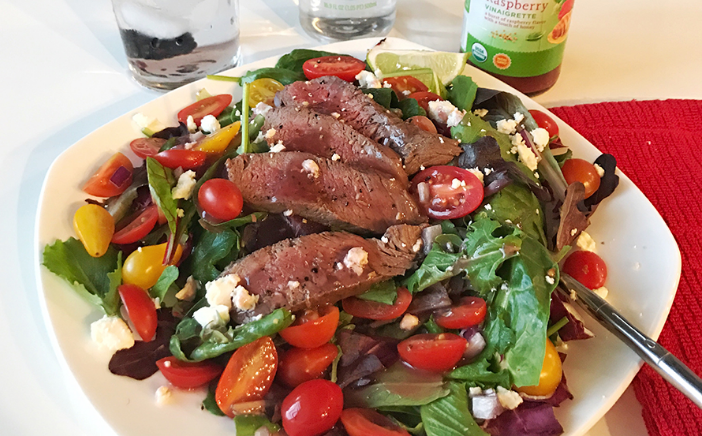 Over the 25years I have worked in the health & fitness industry many people have asked me for something else they can drink to stay hydrated because they get bored of just water. Well here you go! This post is for you! Simple Truth Water comes in 4 flavors Blackberry Blueberry in the photo above, Lemon, Mandarin Orange and Tropical Mango. It's also available wit no flavor if you prefer the crisp, clean, simple taste of water.
I personally tried the Blackberry Blueberry water yesterday and it is definitely flavored with a hint of berry that is refreshing but not overpowering. I really enjoyed the flavor and it had my taste buds wanting more, which in turn had me drinking more water. All positives!
This big bottle 33.8 fl oz/ 1liter was almost my daily requirement for water (40oz) and it was only $1. Simple Truth Water and Flavored Water is 1/4 the price of national brand equivalents.
No artificial sweeteners, no preservatives, no calories and it even has added electrolytes. Definitely a great option to mix up your water. This water can be found at Ralph's, Kroger, Fred Meyer, QFC, King Soopers, Frys, Dillions, Bakers, Gerbes and Smiths. 

7 Simple Reasons You Should Drink Water
Water is Life and it is important to stay hydrated before, during and after working out. Here are 7 simple reasons you should stay hydrated.
1) Every Living Cell in Your Body Needs Water: Make sure your body is properly hydrated so your cells can function at their best. 60% of your bodyweight is water.
2) Fat Burning: Water is needed in your muscle cell for the fat burning process.
3) Digestion & Elimination: For proper digestion and elimination, your body needs water in your stomach and throughout your intestines. When your body is dehydrated the acids that are released to help breakdown food cannot be diluted properly and can cause damage to the lining of your stomach. Dehydration can also lead to constipation because your intestines need water to keep everything moving out. 
4) Synovial Fluid in your joints: The fluid found around your joints require water for proper lubrication and chronic dehydration can increase your risk of arthritis, tendinitis and other forms of joint pain. 
5) Blood Flow: Your bloodstream requires water to transport nutrients throughout the body and to function with proper blood pressure. 
6) Skin: Chronic dehydration can also lead to dry skin and other skin disorders like eczema. The cells of your epidermis/skin need water.
7) Headaches & Migraines: Dehydration causes your blood volume to drop which in turn lowers the flow of blood and oxygen to the brain. Your brain tissue loses water and this can lead to headaches and migraines. 
Half your bodyweight and drink that number in ounces of water a day, adding more during those workouts with a high sweat factor. So if you weigh 150lbs you should be drinking 75ounces of water. Carry water with you all day. Keep a bottle with you in your purse, gym bag, at your desk, wherever you regularly spend time.
STEAK SALAD

Enjoy this steak salad made from Simple Truth Organic ingredients. This is a perfect post-workout meal and easy to prepare in 5-10 minutes. Enjoy! 
~1 serving 
Ingredients
4 oz Simple Truth Grass Fed Top Sirloin Beef
2 cups Simple Truth Organic 50/50 Blend Spinach and Spring Mix
1 cup Simple Truth Organic Grape Tomatoes
1/4 cup Purple Onion
2 tbsp Simple Truth Lite Raspberry Vinaigrette
1/4 cup Feta Cheese
1/4 cup Yellow Grape Tomatoes
Instructions
First sauté the steak in a saucepan with water, Himalayan salt and pepper over medium heat.
Then chop up the tomatoes and onions.
Put the salad, tomatoes and onions on a salad plate.
Slice up cooked steak and place on top of salad.
Sprinkle feta cheese over salad.
Drizzle raspberry vinaigrette. 
For additional flavor you can squeeze lime over salad as well.
Enjoy!
This is a sponsored conversation written by me on behalf of Kroger.  The opinions and text are all mine.