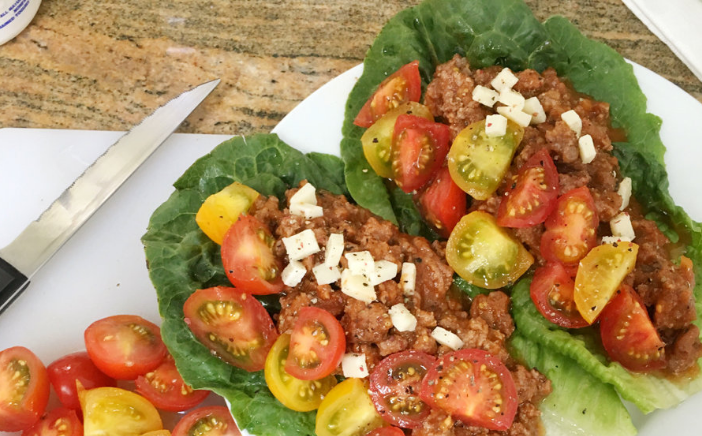 Lettuce Cup Tacos

It's Taco Tuesday! You must try these delicious Lettuce Cup Tacos! Replacing the tortilla with lettuce cups will lower the amount of calories by 150-300calories per taco. The organic Salsa used in this recipe instead of taco seasoning also lowers your sodium intake. This recipe uses nonfat plain Greek Yogurt instead of sour cream to lower sugar, fat and increase protein. One taco is 4oz of beef. ~4 servings
Ingredients
1 pound 95% lean organic ground beef
1 jar of Trader Joe's Organic Tomatillo & Roasted Yellow Chili Salsa
Lettuce
8 cherry tomatoes, diced, or 1/2 tomato, diced
2 tbsp nonfat Greek yogurt
1/4 cup shredded reduced-fat Monterey Jack cheese
Instructions
Cook in a prewarmed medium skillet on medium heat until the beef is browned, then remove from heat and drain off any excess fat.
Clean skillet and add beef and organic salsa and warm over medium-high heat
Take one lettuce leaf and mound the beef mixture, cheese, yogurt, diced tomatoes, and fold from top and bottom to form the taco
This recipe is also in the club with over 150 more healthy delicious recipes and weekly meal plans. Log into the club www.TheHollywoodTrainerClub.com click Meals then Recipes A-Z then type in Soft Turkey Taco.
30Day New Year Bootcamp Challenge
 
We are in our 30DayNewYearBOOTCAMPChallenge & it's never too late to join us! Get 50% OFF the Bootcamp Bundle DVD's at www.TheHollywoodTrainer.com or join The Hollywood Trainer Club for $19.99 a month for over 330 workouts and challenges, 150+ healthy recipes and meal plans, motivation and community support. Write a message on the community wall so that we know that you are joining us!
Screenshot of the 30 Day New Year Bootcamp in the Virtual Gym
Log into The Hollywood Trainer Club, click Exercise, then Virtual Gym and select the 30 Day New Year Bootcamp tab to get the full program.