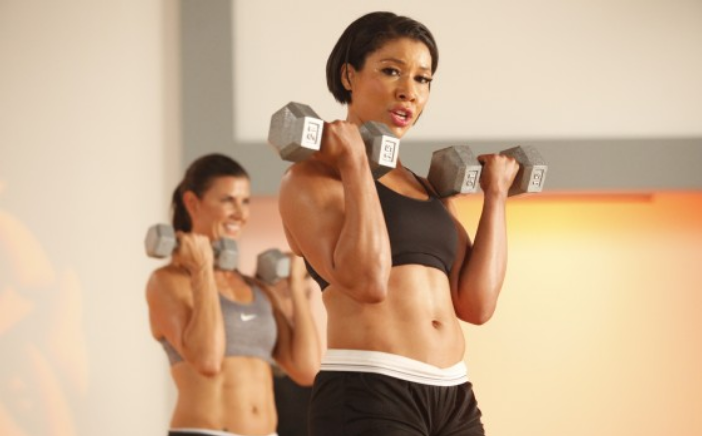 Just in time to help you avoid that holiday weight gain a fun new workout that will get you chiseled! Exclusively in
The Hollywood Trainer Club
 Hot Body Bootcamp
DROP SET CHISEL
is the second workout of the New
HOT BODY BOOTCAMP SERIES
with Hollywood Trainer Jeanette Jenkins.
This Weight Training
Drop Set
workout will help you get
chiseled
and
defined
while
boosting
your
metabolic rate
so you
burn more calories
throughout the day!
Each Exercise is
executed slowly with control
to maximize good form and technique while lifting heavy weight for 10reps recruiting the large & medium fast twitch fibers then dropping the weight down by 50% for 15reps to recruit the medium fast & slow twitch muscle fibers. This drop set technique integrated with Jeanette's total body circuits will recruit all three muscle fiber types using the
"Overload Principle"
to maximize your results!
Yes this workout is for
Men & Women
and we have both male & female trainers in this workout to motivate you! Say hello Hot Body! It's time for
chiseled abs, shapely shoulders, toned arms, defined legs
and a
round plump booty
! All you need is  
20min
to complete the first Hot Body Bootcamp DROP SET CHISEL circuit! No excuses! You can do it!
Chapter 1 Warm-up                                 11 mins
Chapter 2 Drop Set Chisel Circuit#1     20 mins
Chapter 3 Drop Set Chisel Circuit#2    19 mins
Chapter 4 Hot Body Bootcamp Abs    11mins
Chapter 5 Total Body Stretch               8 mins
This weight training DROP SET CHISEL workout is part of The Hot Body Bootcamp Series New & Exclusive to The Hollywood Trainer Club www.TheHollywoodTrainerClub.com Just login to the club it's only $19.99 a month with zero commitment! Click "Exercise" then "Virtual Gym" & Press Play on Hot Body Bootcamp DROP SET CHISEL! For maximum results follow your customized Healthy Meal Plan that is served to you weekly & daily! All you have to do is login or join the Club! Let's go!
Wild Alaskan Sockeye Salmon with Organic Lemon, Asparagus and Sweet Potato. This delicious recipe is in the recipe section of The Hollywood Trainer Club. The entire meal is only 338calories, 30.8grams of protein, 7.8grams of Fiber! Sockeye Salmon is packed with Healthy Omega-3 fat that helps with transporting oxygen through the blood needed for fat burning  and decreases your risk of heart disease. Omega-3's are also a building block for hormone production & so much more! Healthy Fat is also needed for your brain. Did you know that 60% of your brain is composed of Healthy Fat. Omega-3 deficiency puts you at increased risk of brain disorders like ADD, loss of memory & dementia. It only takes 10-15min to bake & it's so delicious! For more delicious recipes & cooking instructions just login to the club www.TheHollywoodTrainerClub.com & click meals/recipes.