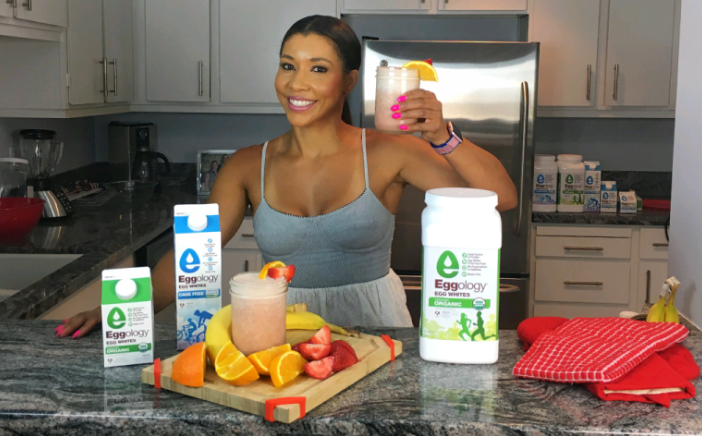 Eggology California Sunshine Smoothie!


We've added this yummy Eggology California Sunshine Smoothie recipe to The Hollywood Trainer Club! There's nothing better than a yummy protein smoothie when you need a balanced meal or snack to get you through your day. This delicious Eggology California Sunshine Smoothie only takes a few minutes to make and will give you the healthy, low calorie pick me up you need. It makes a perfect snack or meal replacement with 26grams of Protein and 6grams of Fiber that will help you feel full and satisfied. One batch serves two and the entire batch is only 259 calories! Try it! You can find this recipe in the Meals section under Recipes A-Z just type Eggology California Sunshine Smoothie in the search box & you'll find it!


Ingredients:
1 Orange
1 Banana
8-10 Strawberries
1 cup of Eggology Liquid Egg Whites
1/2 cup of Water
Ice
Steps:
Put the ice and water in the blender and top with the Eggology Liquid Egg Whites, banana, orange, and strawberries.
Blend on high speed for 1 to 3 minutes, or until smooth.
Nutritional Information:
Calories 259
Protein 26.4g
Carbohydrates 39.4g
Fat 0.6g
Fiber 6g
This recipe is also in the club with over 150 more healthy delicious recipes and weekly meal plans. Log into the club www.TheHollywoodTrainerClub.com click Meals then Recipes A-Z then type Eggology California Sunshine Smoothie.



10 Day Summer Body Blast Challenge!


Summer summer summer time! Just in case you've been having a little too much fun this Summer we're pushing you through the 10DAY SUMMER BODY BLAST to help you stay committed and consistent with your workouts. The challenge starts this Monday, August 8th, in The Club www.TheHollywoodTrainerClub.com. Grab a friend and join us! It's only 10 Days! You can do it!


Just a reminder we also have 14 CHALLENGES , all with playlists in the Virtual Gym so you can start a new challenge today or this weekend. You can do all of the workouts on your phone or computer so no excuses! Grab a friend, pick a challenge and get to work! The sooner you get started the sooner you will achieve your goals!

10Day Summer Body Blast
30Day Ab Blast Challenge
Spring 10Day Body Blast
30Day Butt Challenge
10Day Ab Blast Challenge
10Day Holiday Hot Body Bootcamp
10Day Body Blast Challenge
Sexy Legs Challenge
Red Carpet Workout
12 DAY BODY BLAST
Beautiful Booty Challenge
Train Your Waist Challenge
Amazing Arms Challenge
6Week Get Your Body Back Challenge
Log into The Hollywood Trainer Club click Virtual Gym and choose the challenge that works best for you. You can do it! Start Today! Start Tomorrow! Just make sure you start!