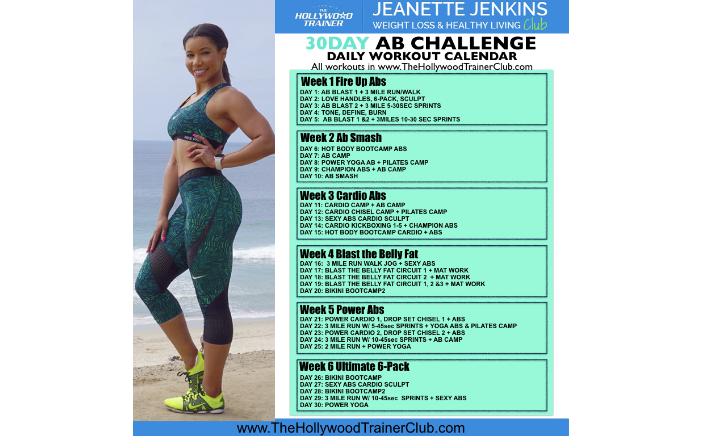 We are in week 4 of our 30DAY AB CHALLENGE in The Hollywood Trainer Club! Yes it's time to take it up another level and add both Strength Training  and  Ball  Exercises to your weekly workouts to maximize your belly fat burning results! The combination of Core Focused Ball Exercises, Cardio and Strength Training will increase your calorie burn while focusing on the core/abdominal muscles. By taking away the stability of the floor and performing your abdominal/core exercises on the unstable exercise ball your ab/core muscles will work harder and you will recruit and fire more muscle fibers! 


It's never too late to join us! All 30 Days are loaded in the Virtual Gym. We are doing this challenge to encourage you to continue exercising and eating healthy through the Holiday months, a time when people typically gain 10lbs. It's important to enjoy the time you spend with your family and friends during the holidays but you must also take care of yourself. Exercising will help you lower your stress levels and you will be less likely to gain those extra Holiday pounds. Grab a friend and join us! You can do it! These workouts range from 10mins to 75mins and they are guaranteed to deliver results! There are 5 workouts per week so you can do all 5 in a row or plan them in your week to fit your schedule! All of the workouts, healthy recipe guidelines and AB BLAST fat burning tips will be posted in the Motivation and News sections in The Hollywood Trainer Club.
SCREENSHOT OF THE VIRTUAL GYM IN THE HOLLYWOOD TRAINER CLUB: WEEK4 BLAST THE BELLY FAT

The best way to achieve your goals is to make a plan and we've already done all the planning for you! It's time to blast the belly fat and reveal those amazing abs! Post a message on the Community Wall in The Hollywood Trainer Club and let us know that you're joining us! Click on "Exercise" and then "Virtual Gym" and then "30Day Ab Blast" in the drop down menu and Press Play! Let's Go!

AVOCADO PINEAPPLE KALE SMOOTHIE
Ingredients
1 Banana
2 thick slices of Pineapple
1 Avocado
5 Strawberries
Fresh Mint
2 leaves of Kale
Instructions
1. Put the ice and water in the blender and top with 1 banana, 2 thick slices of pineapple, 1 avocado, 5 strawberries, 2 leaves of kale and fresh mint
2. Blend on high speed for 1 to 3 minutes, or until smooth.
Nutritional Information
Amount Per Serving              
Calories
230
Protein
6g
Carbohydrates
29g
Fat
13g