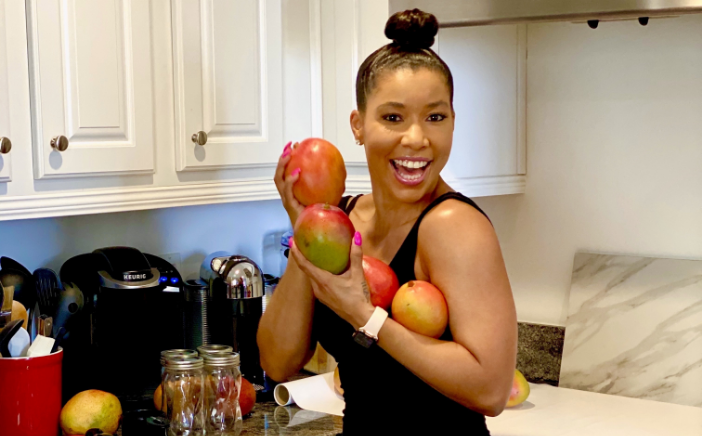 Disclaimer: This post is sponsored by National Mango Board. As always, all opinions are my own. Thank for supporting brands that help run this site!
Sweet and tangy pickled mangos are a delicious addition to salads, vegetable & grain bowls, fish tacos, sandwiches, and more. Of course, it also makes for a refreshing snack enjoyed straight from the jar. 


Mangos are always in season and available fresh year round. Mangos are a must have because they are a satisfying superfruit packed with nutrients, especially Vitamin C –  a 3/4 cup serving in half of what you need for the day.
Ingredients
1 cup water 
1/2 cup Rice Vinegar 
1/4 cup sugar 
2 teaspoons Himalayan salt 
3 unripe mangoes, peeled and sliced
Yields: 2 jars of pickled mangos
Instructions
Cut bottom of mango to balance on cutting board. Peel skin off of mango with vegetable peeler. Slice mango close to seed on each side. Cut mango into slices

2. Combine water, vinegar, sugar, and salt in a small saucepan over high heat, and bring to a boil, stirring constantly until sugar dissolves. 
3. Cool to room temperature, about 1 hour. 
4.  Place mango slices in a clean quart-size glass jar.


5. Pour vinegar mixture over mango slices and refrigerate. 
6. Seal with lid, and refrigerate 8 to 12 hours before serving.


If you want to spice things up try this variation!
Spicy Pickled Mangos Recipe (note, quantities to taste based on your preferences)
Mango pieces cut 1"x 1/4" strips or 1/2' cubes
Fresh dill stems and sprigs
Water
Salt
Sugar
Apple Cider Vinegar
Rice Wine Vinegar
Fresh Garlic Minced
Dried Dill
Tri Colored peppercorns
Coriander ground
Red Pepper Flakes
Cumin